In 2016, my wife Uzma learned that her breast cancer had returned. It had spread to her liver. The first treatment that she received for her stage 4 breast cancer was Ibrance (palbociclib). It's a pill you take by mouth. She didn't have to go to the clinic for infusions. As her oncologist said, it had few side-effects. She didn't lose her hair, though it did thin a bit. At that time Ibrance cost just over $10,000 a month out-of-pocket. We were grateful to have good insurance; our copay was 'only' $3,000 a month. Cancer drugs are expensive, in case you didn't know.
The pharmaceutical industry and health economics experts tell us that it is expensive to research cancer drugs. They say that accurate estimates of R&D (research and development) costs of cancer drugs must include the cost of developing, researching and studying all the compounds that show early promise but ultimately fail in studies and don't make it market.
In Jan 2019 a study was published in JAMA that is the first one to examine the ROI (return on investment) for cancer drugs in a systematic way. It examines the ROI for 99 cancer drugs approved by the FDA between 1989 and 2017.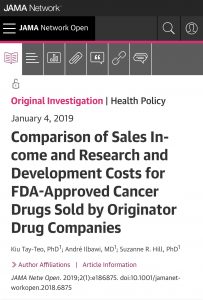 The key findings of the study are:
For each $1 spent on R&D for cancer medicines, Pharma earned between $3.30 and $55.10 with the median being $14.50.
The companies earned the full cost of R&D between 2 and 10 years of FDA-approval, with the median being 5 years.
Going by these findings, it would appear that after 5 years, there is no good reason for half of all drugs to be as expensive as they are. And the drug manufacturers would fully recover their cost of R&D and then some if they cut prices by half 10 years after FDA-approval.